***
Why handle the product twice? 
If you can get the vendor of your purchased parts to alter the parts for you, won't that save your company time?
It seems that every company I talk to is in a hurry these days.  Time is short and deadlines are approaching fast.  
This Weld Fixture Design 101 blog is educational about how to design weld fixtures.  We talk about fasteners and clamps and tolerances and CAD drawings.  So for me to blatantly talk about Rentapen's product line seems…. well… like a breach of trust or something. 
But other machine designers and CAD designers are saving time and money for their companies by having Rentapen alter their RAPid Blocks and RAPid Plates when they need them altered.  So, it just seems wrong that I shouldn't mention it here to you.
I have to.  If I believe that something is good design practice, I have to speak up.
Most likely, if you are the CAD Drafter or Machine Designer in a company, you will not be involved in ordering the parts for the build.  Most companies have a purchasing department.   After you are done with the drawing, the drawings and the BOM will be sent off to someone else to oversee purchasing all the purchased parts and materials to build your machine.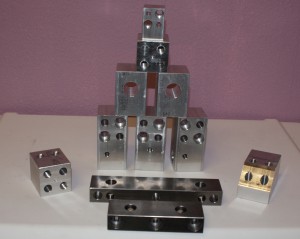 We created our blocks so that they could be ordered with holes in both ends or only one end.  So that the blank end could be used to hold a locating pin, a locating plate, or a flat foot.  When you order your 3D CAD models from our website you will notice that if one end has no holes, there is an XX in the part number. 
To provide your the best price, we make each RAPid Block when it is ordered.  It is easy for us to add your alterations to your blocks while we are working on it in our CNC!  Just send us a drawing, or better yet, send us the detail drawing and your CAD Step File with the alterations.  You will get a quote.   We work with our customers to keep RAPid Tooling Components FAST, FUN, and EFFICIENT.
How do you do this?  When you are making the alteration in CAD, make sure to add to the name of the part "(ALTER)".  Then instruct the person purchasing the parts for your weld fixture or assembly fixture to send along the detail drawing of the part with the changes when they order. 
For example RB02-0375-3000-TSXX now becomes RB02-0375-3000-TSXX (ALTER)
Rentapen started to offer to alter the RAPid Blocks (TM) or RAPid Plates (TM) for our customers because we realized that time is important to them. 
So WHY handle the product twice when you can save time and hassle by letting someone else do the work?
NOW FOR FUN
Here's a video regarding Vektek clamps and safety features for clamps from the IMTS show.
'Til Next Time
The Queen